THE BEST DAILY INSPIRATIONS ONLY
Interview with photographer Fedor Shmidt
Interview with photographer Fedor Shmidt
Posted on
22nd October '13
{{languageTitle}}
Russian English
Молодой, но уже достаточно известный интернет-публике фотограф Федор Шмидт, рассказывает в интервью дизайнленте о первых шагах в фотографии, границе дозволенного в своем творчестве, о том как бы изменил нашу планету за один год, а также делится последними музыкальными открытиями и объясняет, почему все больше и больше ему нравятся западные поклонники его творчества.
In his interview to Designlenta, Fedor Shmidt, a photographer, young, but well-known to the Internet audience, discusses his first steps in profession and limits to his creativity, tells how he'd change the Earth within a year, shares his last findings in music and explains why there's a shift to foreign followers in his preferences.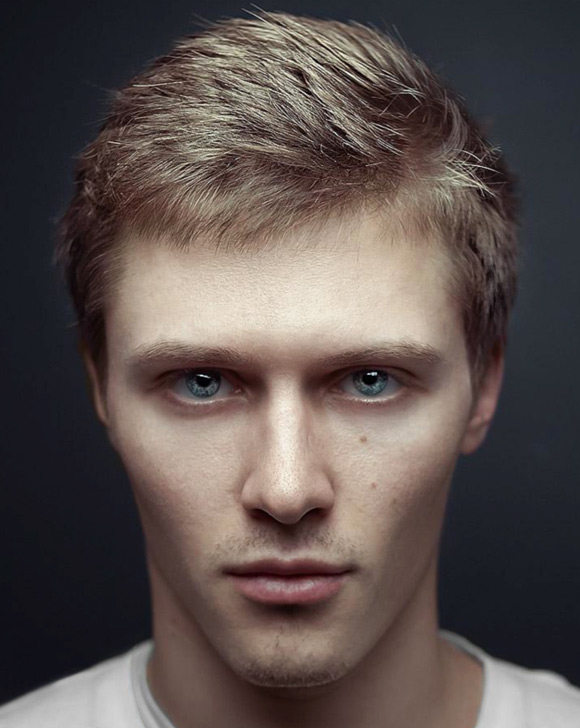 Fedor Shmidt, 22 years photographer from Moscow (originally from Belarus)
attention! please check up that you were reserved popcorn or beer and enjoy it!
C чего началась ваша карьера фотографа? Когда вы впервые заинтересовались фотографией и фотографией обнаженного тела в целом?

Когда я учился на первом курсе, я полгода откладывал деньги с зарплаты на свою первую зеркалку. Купив ее, я захотел как можно быстрее научиться снимать как профессионал. Вначале я бесплатно освещал мероприятия студсоюза МГУ, потом попал в клубы, понемногу получая опыт работы со вспышкой в темных помещениях. Об обнаженном теле я даже особо и не думал - это казалось вершиной айсберга на том этапе. Но в клубах я порой сталкивался с более или менее голыми барышнями и каждый раз не упускал возможности с ними что-то снять. Это был 2009. Осознанный интерес к такого рода съемкам пришел намного позже в 2012-м.

Какой философии вы придерживаетесь в своем деле?

Я делаю это, потому что я могу это делать.

Если брать коммерческие проекты, то насколько вы щепетильны в вопросе выбора проектов? Каков % запросов в месяц вы в среднем отсеиваете с формулировкой «не интересно» (т.е. причина отказа не связана с финансовой составляющей или маленькими сроками)?

Если честно, сливаю почти все. Если это не интересно, я найду сто причин для того, чтобы не работать :)

Кто или что больше всего повлияли на ваше творчество?

В свое время, пожалуй, пример Маврина меня довольно сильно мотивировал.

Есть ли границы дозволенного в вашем творчестве, внутренняя самоцензура?

Границы определяются моим вкусом. Главное, чтобы было красиво, чтобы этого хотелось. Моя "самоцензура" - это, скорее, отсев по качеству и эффектности, нежели по степени оголенности и тому, какая это часть тела.

Какая из ваших работ вам нравится больше всего и почему?

Как и с любимыми фильмами, музыкой я не могу сделать выбор в пользу единственной работы, но вот одна из лучших, на мой взгляд: В фотографии я ценю прежде всего эмоциональный эффект. Он должен быть максимальным.

Как вы оцениваете уровень фотографии в целом в вашей стране?

Оцениваю, как неплохой :) Честно, не особо слежу за всем этим, но то, что периодически вижу в сети, действительно круто.

Профессиональное и личное достижение, которым вы больше всего гордитесь?

Не думаю, что есть такие достижения, которыми бы я мог по настоящему гордиться. Все еще впереди.

Если бы не фотография, то чем бы вы стали заниматься в жизни?

О. Фотография - не последняя инстанция в моей жизни. Это хобби. В целом я не строю планов, потому что каждый квартал происходят какие-то вещи, кардинально все меняющие, либо меняются мои пристрастия и/или увлечения. Для меня это непаханое поле и я с удовольствием бы занялся и видео, и блоггерством, и боксом бы снова занялся :) Во всяком случае, если мне что-то нравится, я стараюсь это делать. А если получаешь от чего-то удовольствие, результат не заставит ждать.

Можете вкратце рассказать, как проходит ваш типичный рабочий день?

У меня нет рабочих дней как таковых, большинство ночей в клубах можно примерно описать одной схемой. Обычно я просто снимаю репортаж. В процессе я встречаю девушку, которая мне нравится. Она открытая и не закомплексованная. В течение минуты мы знакомимся, ищем место потише, а дальше все зависит от настроения - можем наснимать что угодно, от легкой эротики до агрессивной провокации. Часто я встречаю в клубах уже знакомых моделей - это, конечно, все еще больше ускоряет.

Как относитесь к алкоголю и прочим стимуляторам в творчестве и вне творчества?

Всем этим перестал давно баловаться - мешает работать, а работать иногда приходится в промежутках между учебой. Особо не расслабишься.

Как предпочитаете отдыхать от любимой работы?

Утомление от работы я не чувствую, но когда приходится долго оставаться на ногах, лучший отдых - это несколько часов сна. В свободное время любой досуг в интересной компании - все, что нужно.

Любимые 3 вещи (материальные), без которых вам будет тяжело протянуть и день?

Телефон, ноутбук, раньше еще был турник.

Pepsi или Coca Cola?

Лучше чай покрепче заварить :)

У вас есть предпочтения в одежде? Любимая вещь в гардеробе?

Особых предпочтений нет. В основном хожу в casual: майки, футболки, водолазки. Люблю вещи, которые сложно встретить в городе на окружающих. И они тоже должны вызвать эмоции, если не формой, то надписью, принтом.

С каким клиентом вы бы хотели поработать?

Журналы аля Maxim, Playboy. Если говорить о других брендах, с радостью поснимал бы для немецких машинок из большой тройки, ну и иже с ними - что-нибудь красивое.

Кем и где вы себя видите через 5 лет?

Понятия не имею, как и где я буду даже через полгода. Для меня это каждый раз сюрприз.

Насколько средняя школа / университет были для вас полезны? Как вы относитесь к классическому образованию?

Довольно полезны. Во-перевых с точки зрения коммуникаций с другими людьми. Да и в отношении общего развития - немалый вклад был получен именно за счет школьного и университетского образования.

Если бы вам предложили сменить профессию, кем бы вы хотели стать?

Если бы мне предложили сменить профессию, я бы не согласился :) Можно эксперимента ради перепрофилироваться на видео, например, попробовать.

Если бы Голливуд решил снимать фильм о вашей жизни, кого бы вы выбрали на главную роль и какой жанр был бы у фильма?

Я бы выбрал какого-нибудь молодого и неизвестного. В жанр бы намешал всего подряд: и психологическую драму, и комедию, немного, а может и много триллера. Я пока не знаю, о чем этот фильм бы был - все самое интересное в этой жизни еще не произошло.

Если бы у вас было три месяца свободного времени и никаких финансовых ограничений, чем бы вы занимались?

О, первые сутки я бы спал. Далее интертеймент. Существует масса занятий, которые мне интересно освоить, попробовать, и вещей, которые хочется сделать. Например, съемки видео-роликов разных уровней сложности и разных форматов, их монтаж и пост-продакшн. Еще хочу вернуть систематические ежедневные занятия спортом, скучаю по тайскому боксу. Хочу поставить голос, хочу танцевать хаус, мотоцикл надо купить, доделать все кадры, некоторые из которых мои модельки ждут уже довольно давно :) Ну и если у меня действительно появится много времени, я думаю, что не удержусь от нормальных отношений, потому что с моим нынешним ритмом это практически невозможно.

Устраивали ли вы когда-нибудь рабочие марафоны? Сколько часов подряд вы проводили у монитора за работой?

Будучи еще более молодым, я не знал меры в работе и как-то проще переносил бессонные сутки. Несколько раз выпадали выходные, когда я мотался со съемки на съемку на протяжении более 50 часов. Обычно это заканчивалось тем, что я терял что-то из техники, пока пытался зарядить - а садилось, естественном, все , что можно. Поэтому все финансовые плюсы таких марафонов сглаживались моими потерянными аккумуляторами, зарядками, объективами и иногда вспышками, оставленными в такси. У монитора я сидел наверно часов по 12 иногда.

Посмотрите плейлист вашего Ipod/iPhone, какая композиция там сейчас на паузе? Поделитесь вашим последним музыкальным открытием.

Little Jinder – Without You (Seba Remix)
Был просто счастлив, когда открыл для себя агнлийское радио-шоу The Selector. Они пускают несколько часов новейшей британской музыки каждую неделю. Море мурашек.

Что, если вам придется работать под руководством человека, который знает меньше вас?

Что поделать, все в жизни бывает. Если все остальное будет отлично, я как-нибудь смирюсь с его ограниченностью :)

Верите ли вы в «талант»? Cформулируйте, что означает «талант» в вашем понимании?

Я не верю в понятие как нечто абстрактное. У меня биологическое образование и мне это видится так: у каждого человека от рождения развиты более или менее те или иные нервные центры. У кого-то больше, у кого-то меньше. Человек с этим набором взрослеет, воспитывается, получает опыт. Все то, что он получает взрослея, так же может развивать или не развивать его потенциал. Талант - это когда он все-таки развил этот потенциал.

Читаете ли вы книги? Какую последнюю книгу вы прочли?

У меня с книгами история как со спортом. То заваливаюсь литературой, то не трогаю ее месяцами. В последний такой цикл перечитал Гессе, Оруэлла и Сартра.

Представьте, что вы можете поменять одно качество во всех людях на планете Земля. Что бы вы изменили в нас?

Лень. Посмотрел бы я на планету через год.

Часто ли критикуют вашу работу и творчество в целом? Ваше отношение к критике?

Всегда критикуют. Отношение ровное. 99.9% критики печатается в интернете. На эти лучи поноса я вообще не обращаю внимания. Конструктивную критику давно не встречал.

Комментарий или отзыв в сторону вашей работы, который запомнился вам больше всего? Чей это был отзыв?

В последнее время радуют зарубежные фанаты, чье число стремительно обгоняет наших. Такое ощущение, что они гораздо общительнее, душевнее и добрее. Потоки добра идут мне в тумблер, на фейсбук, 500px. Запомнилось сообщение от одного из фоловеров в tumblr, в котором человек рассказал, как увидев мое "творчество" где-то на развлекательном сайте так полюбил его, что зарегестрировался во всех соцсетях, чтобы постоянно следить за обновлениями :)

Расскажите, что произошло значимого для вас в вашей стране за последние 10-15 лет?

Жить стало лучше. Я в курсе политических событий и на все имею свою точку зрения, но озвучивать ее не считаю уместным, особенно в рамках нашего прекрасного интервью :)

Если бы выпал шанс стать супергероем, кем бы вы стали?

Не очень разбираюсь, но запомнился доктор Манхэттен. Не силами своими, а тем, что он по сюжету продвинулся в понимании сущности материи, а значит и всего вобще вокруг дальше, чем современная наука, которая пока только вопросы задает.

Насколько ваша жизнь состоит из случайностей? Или у вас все под контролем?

Случайностей полно, особенно в последнее время. Стал часто вылезать за сроки, совершать какие-то спонтанные поступки, но и жить стало интереснее. Раньше была другая крайность - держал себя в тисках.

Пользуетесь ли вы социальными сетями? Как активно, насколько это полезная штука?

Активно пользуюсь. Это на сегодняшний день очень удобный канал, по которому можно найти свою аудиторию. Штука бесценная, я понятия не имею, что без них делать вообще :)

В каком направлении планируете развиваться дальше, поделитесь планами?

Собственно все, что я перечислил в ответе на вопрос, что бы я делал, будь у меня 3 свободных месяца, я и планирую осуществить, может в чуть более продолжительные сроки. А дальше придумаю еще что-нибудь - это уж точно.

Вопрос для определения вашего психологического портрета: какой M&M's вкуснее: желтый, или красный?

Тот, что первым в рот попадет, самый вкусный. Остальные уже попроще.

Спасибо и напоследок скажите что-нибудь тем тысячам людей, что будут читать ваше интервью.

Что бы такого полезного сообщить. Вот, пожалуй одни из самых любимых моих песен, может они дополнят картину: Plaitum – Geisha

Death in Vegas – Dirge

Sneaker Pimps – Half Life

Flyleaf & The Legeon Of Doom – I'm so sick

У меня даже кошки от них балдеют.
Предлагайте свои, интересующие вас вопросы, для следующих выпусков интервью на нашем ресурсе.

What were your first steps in photography? When did you feel interested in photography and in the nude art in particular?

Being a first-year student, I collected for my first reflex camera for six months. I bought it and rushed to study to become a professional. I started with the candid photography: volunteered to reported events that were held by the Student Association of the Moscow State University. Then I got to night clubs and toyed around with flash in poor lightning. Not an idea about the nude: it was a peg too high for me. But you know, there are always some stripped ladies in the night clubs: so why to miss an opportunity to capture them? In 2009 it was like this. But in 2012 I felt a kind of conscious interest to the nu photography.

What's your professional philosophy?

I do because I can.

Are you scrupulous choosing commercial projects? What percent of offers is declined as "not interested in" (not because of their budget or dead-lines)?

To be honest, I wimp out the majority. If I'm not interested in a project, I'll find any excuses not to work :)

Who or what influenced your work?

Let's say, Mavrin's example motivated me highly in my day.

Are there any limits or borders in your work? Self-censorship?

Any limits depend upon my own taste. I think it beautiful, I want it: then let it be. My "self-censorship" involves quality and efficiency rather than a grade of nudeness or part of the body.

Which of your own works do you like the best and why?

Can't name my absolute all-time favorite (the same thing with music or movies), but I think this is one of the best: For any photograph, its emotional impact is the main thing and it should work its maximum.

What's the photography level in your country?

I think it's not bad :) I don't monitor it, but some works I meet on the web, are really cool.

What are your professional and personal achievements that you are really proud of.

I wouldn't say there're achievements I'm really proud of. I have the world before me.

If not taking photos, what could you do?

Photography is not a sacred cow for me. It's my hobby. I never build plans: three months pass and everything's new. Something happens turning my life over or I change my life choices. It's fertile territory for me: I could try making video, blogging or boxing – again :) If I like something, I try to do it. And if you enjoy yourself, the result is not slow to arrive.

What's your typical working day like?

I don't have working days as such. All the nights in clubs are alike. I just take candid photographs. I look for a girl that I like. She's open-minded and outasight. It takes few moments to get acquainted and find a quiet spot. Then it's mood that guides us: the result is unexpected – from a bit erotic to aggressive and provocative. It often happens that I meet the models we've already cooperated with: then the process is faster.

What do you think about alcohol and other exciters in creative life and outside of it?

I stopped these experiments long ago: it prevents from working, and sometimes I have to work and study at the same time. So there's no time for lowing my guard.

What's your favorite rest from your work?

I never feel tired of my work but if I have to spend hours on the move, I just prefer to sleep some hours to have a rest. In between anything will do: good company and leisure time are enough.

Three things you can't live a day out?

My telephone, my notebook. And it used to be a pullup bar.

Pepsi or Coca Cola?

Strong tea :)

Do you have any preferences in clothes? Your favorite outfit?

Nothing special. Just casual clothes: sleeveless shirts, t-shirts, roll-necks. I like things that you won't see on every Tom, Dick and Harry. Clothes should provoke emotions with their print or slogan if not with their fit.

What client (brand) would you like to work with?

Magazines a la Maxim, Playboy. Or I would enjoy shooting for the German automotive Big Three and company. Anything really admirable.

What are you in 5 years?

No idea. No idea what I'm in half-year. It's a surprise for me too.

School and university, were they useful? What do you think about traditional education?

Yes, rather useful. First, they teach to communicate with others. They expand the horizons: school and University gave me a lot.

If you could change your occupation what would you be?

I'd refuse to change my profession :), but I'd tried an experiment making video, for example.

If some people from Hollywood decided to film your life-story, who would star it and what would be its genre?

I'd choose a young, unknown actor. The movie would be a patchwork: psychological drama, comedy and a bit of – or a lot of – thriller. But I cannot say what the movie could be about: the most interesting life scenes are ahead.

Had you 3 free months with no money limits, how would you spend your time?

Frist of all, I'd sleep a full day and a full night. Next, I'd got to entertainment. I know lots of thing and occupations I'd like to try and master. For instance, movie-making: of different levels and formats, with cross-cutting and post-production. I'd took exercises daily, as before. I'm sick for Thai boxing. I need my voice taught. I want to dance House. I need a bike. I should finish all the raws: some models are tired of waiting :) And if I get enough time, I won't resist long-term relations as my usual pace of living makes it impossible.

Do you know what is a workathon? How many successive hours did you spend at your computer?

Being younger I knew no limits to working, but days without sleeping were not that difficult to stand. There were weekends that I spent running from one event to another for fifty hours straight. I resulted loosing some inventory when charging it up (any batteries drain if you work all day round). So all the earnings of these commercial marathons vanished as I had to buy new batteries, charging devices, lenses and flashes instead of those lost in taxies.
I could spend up to 12 hours at my computer.

Look at your iPod/iPhone playlist: what's paused there at the moment? Share your music findings.

Little Jinder – Without You (Seba Remix)
The Selector, English radio show, made me happy. They give hours of the freshest British music every week. It's creepy!

What if your chief had less professional skills than you have?

Things happen. Other things OK – and I'll bear his tunnel vision :)

Do you believe that gift and faculty to a job exist? How do you understand them?

Abstract concepts? I don't believe them. I'm a biologist and think that all people are born with these or those nerve centers developed – more or less. One becomes a grown-up, is educated, gets experience, but he/she has his/her inborn qualities more or less developed thus revealing some potential. And if one has his/her potential revealed and developed to the maximum, we can speak about his/her gift.

Do you read books? What have you read recently?

Books are the same as exercises. I can read nonstop, but then I stop for months. Hesse, Orwell and Sartre are the fruits of my last heavy-reading.

If you could change, transform one trait in everyone living on the Earth, what trait would you choose?

I'd eliminate laziness. And we'd see what the planet is in a year.

Are you often criticized? How do you take critics?

Yes, I'm constantly criticized. I take it equally. 99.9% of negative comes from the Internet, but I pay no attention when they rain on my parade. Unfortunately, useful criticism is an endangered species.

Share the most notorious comment or review. Who gave it?

I'm happy with my foreign fans recently. I have much more enthusiasts abroad than here, in Russia. They are more communicative, more open and kind. They flood my tumblr, Facebook and 500px with positive emotions. One of my tumblr followers tells that he bumped into my works on an entertaining website and those impressed him greatly: so he got registered to all social networks to follow my new works :)

What things that are important for you have happened in your country for the last 10-15 years?

The life is better now. I follow politics and have my own point of view on the events happening, but this interview is not the place to express it :)

What super hero would you like to be?

Super heros are not my thing but I remember Dr. Manhatten. Not his superpowers attract me, but his knowledge of matter and anything, as the plot says: he gets ahead of the modern science that can ask and nothing more.

Is your life a chain of chances and accidents or do you control it?

Chances and accidents happen often in my life and the tendency is pronounced, I should say. I fail deadlines, act spontaneously but it makes my life more diverse. I go into extremes: before I had a lock on my commitments.

What about social networks: do you think them useful?

Yes, I use them actively. Nowadays they are highly convenient to find your own audience. These are inestimable for me: can I live without them?

Share your plans and ideas for future.

Look for those in my answer to the question about three free months: all the things listed I'm going to realize. Maybe three months won't do, but anyway I'll implement them to life and then we'll see.

Just to create your psychological profile. What M&M's is more tasty: yellow or red?

The first one that is in my mouth. Others are too simple.

Thank you for your answers. Anything to say to those thousands of readers?

Hm, should I say anything useful? Listen to my favorite songs – just to fulfill the impression.

Plaitum – Geisha

Death in Vegas – Dirge

Sneaker Pimps – Half Life

Flyleaf & The Legeon Of Doom – I'm so sick

My cats are flipping over these these.
You can offer yours questions in comments for the next episodes of our interviews.